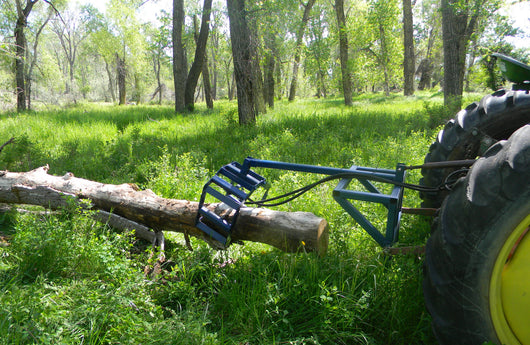 Tractor Mounted (3pt) Log Grapple Plans | .PDF Download
Regular price $12.50 Sale
Benefits of Log Grapple Plans
Move logs without leaving the tractor seat.  Make your own Log Grapple.  Log grapples make moving logs easier.  Log grapples keep the log out of the dirt and extend life of sawmills and chainsaws.
Tractor Mounted Log Grapple Plans include simple step by step written plans with digital photographs of the steps as the prototype was constructed.
No difficult to follow blueprints or CAD drawings.  As a long time High School Shop teacher I have learned that many people work better with pictures and written instructions that drawings and blueprints.  Many students find it easier to "see" a finished product than to "visualize" a drawing.   Blueprints are often confusing and difficult to convert to 3 dimensional products.  
These plans are not a drawing of someones idea on how to make a log grapple.  They are instructions and photographs of one that was actually made and used.
Plans are 11 pages long. They include a complete bill of materials and 28 photographs.
Basic welding skills and metal working tools required.