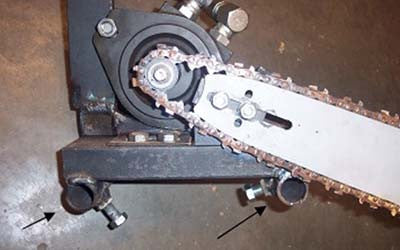 Hydraulic Chainsaw Plans | .PDF Download
Regular price $16.95 Sale
- Have your own idea on making a processor? Just need help making a hydraulic chainsaw.   - Cuts comparably to a 24" 55cc gas chainsaw.
Plans are written step-by-step instructions with digital photos of each step as it is completed.  Plans explain how to make a mounting plate to support a hydraulic motor with use of a chainsaw sprocket and bracket for mounting a chainsaw bar.
Plans are 11 pages with 18 photos/diagrams. Plans come with email support.  
The actual performance of the final saw will depend upon the capacity of the hydraulics used.
Plan discusses different hydraulic options and their potential outcomes. The demonstrated model as made in the plans cuts comparably to a homeowner mid range chainsaw (24 inch bar, 55cc)
This is the saw demonstrated in the Hydraulic Processor video on this website. The pages from this set of plans are taken from the Processor plans on this website (chainsaw plans are included in the processor plans)
 Estimated cost of construction $300
THESE PLANS ARE PART OF THE FIREWOOD PROCESSOR PLANS.  YOU DO NOT NEED TO BUY THESE PLANS IF YOU HAVE ALREADY PURCHASED THE FIREWOOD PROCESSOR PLANS.